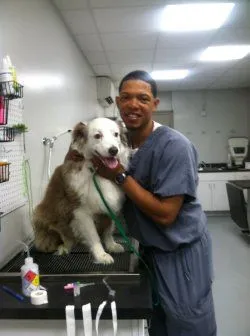 Dr. Treyton ( Jai') Diggs, is a native of Boutte, Louisiana, but was reared in Miami/ Miramar, Florida. Dr. Diggs attended Hahnville High School while in Boutte and Miramar High School while in Miramar. He received his Bachelor of Science degree from Nicholls State University in Thibodaux, Louisiana in 2000. After receiving his B. S. from Nicholls he then went on to pursue his DVM at the historic Tuskegee University in Tuskegee, Alabama. While in veterinary school Dr. Diggs worked in the anatomy lab and the large animal clinic. After completing veterinary school in 2007, Dr. Diggs was chosen to do an internship in small animal medicine and surgery at California Animal Hospital Veterinary Specialty Group in Los Angeles, California. During his internship Dr. Diggs was extensively trained by top Board Certified Veterinary Specialists in Small Animal Internal Medicine, Cardiology, Emergency and Critical Care, Neurology, Neurosurgery, Surgery, Dentistry, and Radiology. After completing his internship, Dr. Diggs decided to return home to Louisiana, thus joining the VCA Causeway Animal Hospital family. After working there for 4.5 years, he decided to join the Allstar Animal Clinic Team. His interests are soft tissue and orthopedic surgery and canine reproduction. Dr. Diggs has three lovely children (Kennedi, Phoenix, and Treyton II), and two dogs (Chewy and Max). When he has free time he can be found training his beagles, with whom he competes in AKC sanctioned field trials, or riding his horse or fishing.
---
Kenneth Pierce, DVM, MS, Diplomate ACVO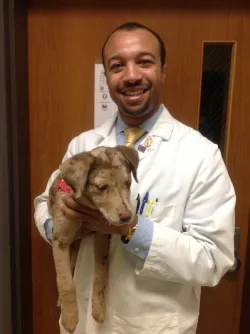 D.V.M., Louisiana State University, 2005
M.S., Michigan State University, 2011
Comparative Ophthalmology Residency, Michigan State University, 2011
Diplomate, American College of Veterinary Ophthalmologists, 2011

Biographical Sketch:

Dr. Pierce, a native New Orleanian, received his Bachelor of Science from Tuskegee University in 2001 and his Doctorate of Veterinary Medicine from Louisiana State University School of Veterinary Medicine in 2005. In 2006 Dr. Pierce completed a Small Animal Medicine and Surgery internship at the University of Tennessee College of Veterinary Medicine. In 2007 Dr. Pierce traveled to southern California to complete a specialty ophthalmology internship with Eye Care for Animals and B. Braun, Inc. He then completed a four year Comparative Ophthalmology residency at Michigan State University and Masters degree in 2011. Dr. Pierce became a Diplomate of the American College of Veterinary Ophthlamologists in August 2011. Upon becoming certified in Veterinary Ophthalmology Dr. Pierce was an Assistant Professor of Comparative Ophthalmology at Louisiana State University's School of Veterinary Medicine from 2011 to 2013.
Kenneth Pierce, DVM, MS, Diplomate ACVO
Pierce Eye Consulting, LLC.
---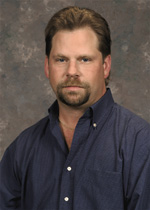 Dr. Keith N. Strickland received his Bachelor of Science (Zoology) in 1989 and his Doctorate of Veterinary Medicine in 1993, both from Oklahoma State University in Stillwater, Oklahoma. Dr. Strickland has been a Diplomate of the American College of Veterinary Internal Medicine (Subspecialty of Cardiology) since 1997. From 1997 to 2010, he obtained the title of Clinical Associate Professor in the Department of Veterinary Clinical Sciences at the LSU School of Veterinary Medicine. During his tenure at LSU, Dr. Strickland was funded for five research grants, wrote over ten book chapters, over 20 peer-reviewed articles, and gave over seventy hours of continuing education at the local, state, national, and international level. Additionally, Dr. Strickland won the "teacher of the year" in 2003, 2004, and 2005. He also won the Pfizer/Carl J. Norden "Outstanding teacher of the year" in 2005. After leaving academia in 2010, Dr. Strickland created Veterinary Cardiac Consultations, LLC, a mobile veterinary cardiology consultation service which serves the southern Louisiana region.​